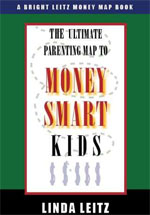 The Ultimate Parenting Map to Money Smart Kids by Linda Leitz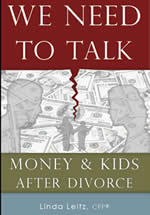 We Need To Talk: Money and Kids After Divorce by Linda Leitz
Please note that when ordering from our web site we offer discounts for volume purchases for schools, civic groups, professional and other organizations. Call us for details.
Also - shipping is included on all orders placed from the web site!
Please download and complete the order form for ordering Linda's books or CDs. For your convenience, we accept Visa and Mastercard credit cards.



---


The Ultimate Parenting Map to Money Smart Kids
(ISBN 0-9773683-0-0)
Price: $10.00 + tax (US Dollars)

Volume Discounts

| | |
| --- | --- |
| 1-19 | $10.00 each plus tax |
| 20-39 | $7.50 each plus tax |
| 40+ | $6.00 each plus tax |

---


The Ultimate Parenting Map to Money Smart Kids Audio CD
Includes the full book read aloud by Linda.
Price: $18.95 + tax (US Dollars)

Volume Discounts

| | |
| --- | --- |
| 1-19 | $18.95 each plus tax |
| 20-39 | $14.00 each plus tax |
| 40+ | $11.00 each plus tax |

---

Volume Discounts

| | |
| --- | --- |
| 1-19 | $13.95 each plus tax |
| 20-39 | $11.00 each plus tax |
| 40+ | $8.00 each plus tax |